Stick and Rudder - An Explanation of the Art of Flying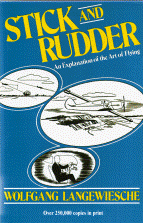 This classic manual by Wolfgang Langewiesche covers all the elements of flying, from how and why flight works, through air sense, wind drift, controls, basic manoeuvres, landing, dangers, working speeds etc. 390 pages, fully indexed, line illustrations, cloth.
!!!!!!!!PRICE INC DELIVERY £28 IN THE UK!!!!!!!!