Moderators: John Dean, Moderator
Does anyone have a design, old photos maybe or suggestions for a quiet but efficient exhaust system for an Evans VP-1 with an 1834 VW?
I am refurbishing an elderly aircraft which is currently fitted with very short (about 12") stainless steel open pipes which the previous owner admitted make a loud crackle. To avoid irritating the locals, I should like to quieten it down. Also, I read somewhere that a short exhaust can lead to cold air returning back up the pipe and distorting the exhaust valve.
Any advice most gratefully received.

John.
Posts: 82
Joined: Mon Jan 07, 2008 9:39 pm
Location: Nr. Colchester
---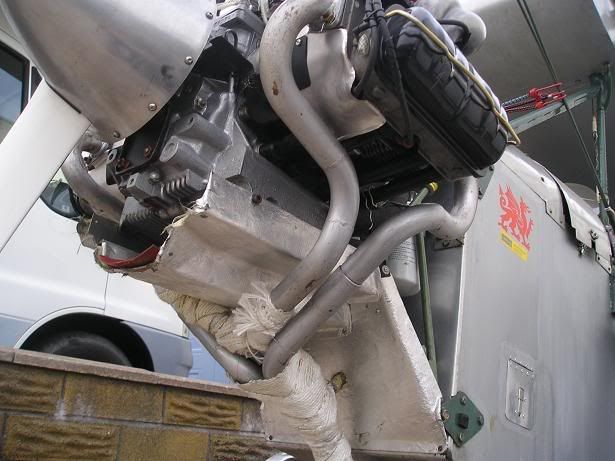 ...and it goes...
http://s82.photobucket.com/albums/j279/ ... ge0022.flv
If I remember correctly it was reshaped from a KR2 design and then a silencer added. You can visit any VW specialist (or the internet) and buy a set of VW camper 'J' pipes to fabricate your own stuff. Mine is quiet and the max rpm has increased due to the better gas extraction so it may even pay in power for the cost of the weight.[/img]
Rob Thomas
034851
Posts: 370
Joined: Wed Jan 16, 2008 4:56 pm
---
Probably not as quiet as Foggy's but a simple alternative that certainly took the bark out of my VW.
http://picasaweb.google.com/mikemold/D9 ... 7450533922
Several years ago PFA published a photocopied booklet, collating several reports on engine silencing, including by Francis D, Tony Bengelis, Joe McCollum on his Menestrel and by Barry Smith on the system fitted to his Acro Advanced. I couldn't see it on the current online shop but a call to Dave Dale at HQ might find one.
Posts: 210
Joined: Wed Jan 02, 2008 1:36 pm
Location: Dunkeswell
---
A subject close to my heart this one!

When I had my Luton Minor back in the 80's, I experimented with a longer exhaust system rather than silencer and can honestly say that the reduction in exhaust noise was well worth the 50rpm I lost.

No rocket science involved just two six foot lengths of 28mm copper tube (one each side) connected to the existing exhaust and attached to the fuselage at convenient points using mild steel clamps and heat insulting material.

In those days, you just got on with it but I suspect a mod approval would be required now, so I shall just put up with the racket from my Veep for the time being.
Roger Callow
033963
Posts: 122
Joined: Thu Oct 02, 2008 8:30 am
Location: South Lincolnshire Fens
---
In the last year of flying my Veep 1 I made a tuned length 4 into 1 with mandrel bends and a short tail pipe . This transformed the sound from the familiar, and loud, POP POP POP to a deeper throaty burble. I didnt test it enough to see if there was any real performance benefit by way of climb and fuel consumption etc because as great as it was, being made from standard mild steel exhaust tubing it weighed 19lbs more than the straight pipes [which weighed 5 if I recall ] so was not really practical, the next plan would have been to add a Motorbike racing can muffler - but actualy it didnt need it from the cockpit side of things.

Despite the weight increase, which is significant on a Veep, I noticed no reduction in climb performance, but, in flight with the throttle closed I could not hear the engine at all. Quite disconcerting at first but magical to fly. Still got it hanging in the loft waiting for it to rust out a bit and reduce its weight !!!

All in all a pleasant and interesting experiment - now, if I was proficient at welding thin section lightweight stainless ????

Another thing i did was to weld up the end of the straight pipes - that would make it quieter! and then drilled 1/8" holes in the underside of the pipes to equal the exit area of the straight pipes and a couple on the end blanking plate to try and dampen any reflected wave traveling back to the cylinder. To be honest I cant remember the success of that arrangement but if I recall it took a bit of the bark out of the exhaust note but maybe wasnt as quiet as I hoped.

The Fournier RF series exhausts, as simple as they are, do take some beating for nose reduction.
003816
Posts: 15
Joined: Thu Feb 21, 2008 8:49 pm
---
128 ounces or 8 lbs for the 4-into-1 system here on the GPASC site. My system weighs 7.8 lbs, including the silencer can (all 3 1/2 feet of it!) I'm having a superlightweight stainless silencer can custom made and it will come out at about £100 for a 3 foot repackable/strippable unit. I made up for the extra weight by losing the cast iron wheel rims (ex Lambretta) on my FRED.
http://www.greatplainsas.com/scexhaust.html
Rob Thomas
034851
Posts: 370
Joined: Wed Jan 16, 2008 4:56 pm
---
Just re-reading the post from Gordon (2 places up), it may be possible to fit a GPASC complete lightweight system and it will not be any heavier than the automotiveweight stub pipe that you already have fitted. Worth a set of gaskets to remove and weigh the bits you already have? The ones I removed from the FRED weighed a ton!!!
http://i82.photobucket.com/albums/j279/ ... ontlhs.jpg
Rob Thomas
034851
Posts: 370
Joined: Wed Jan 16, 2008 4:56 pm
---
As always, thank you all very much for your varied and very helpful suggestions.

I have located a source of 'J' pipes (I didn't know they existed!) which would seem to be an excellent starting point for fabricating a new design. Also, Dave Dale thinks he has located the publication on silencing.

I am slightly worried about weight and balance because she is an old aeroplane, has some mods and will undoubtedly have put on weight but, until she is all bolted together again, I won't know if I have a problem. If I do, then perhaps I shall opt for a more simple design using the closed pipe and holes principle. This said, Foggy's design looks to be exactly the sort of system I had in mind and, at less than 8 lbs, may be perfectly acceptable. Of course, I need also to establish the current position regarding mod approvals - good point!

Many thanks, once again.

John.
Posts: 82
Joined: Mon Jan 07, 2008 9:39 pm
Location: Nr. Colchester
---
When I asked about the FRED I was told that, since no real plans exist for firewall-forwards, it is down to good aero sense(or whatever the phrase is) and I refitted the bits that came in a box with the aeroplane. Does the Veep have plans from the firewall?
Rob Thomas
034851
Posts: 370
Joined: Wed Jan 16, 2008 4:56 pm
---
Foggy, you're absolutely right, there is nothing specified from the firewall forward so maybe good aero sense does indeed apply. I shall have a word with my inspector when he next calls. In between times, I'll weigh the pipes that came off; they are stainless but seem to me to be quite thick walled.

The engine is currently down to its fundamentals on the bench so it will be a week or two (says I optimistically) before it is bolted to the firewall with its heads on so that I can really study the problem. Then there's the stabilator to repair and re-cover, the instrument panel to sort out, ............. I'd better go back up to the garage now and put in another hour or two!

Thanks once again for your most helpful suggestions.

John.
Posts: 82
Joined: Mon Jan 07, 2008 9:39 pm
Location: Nr. Colchester
---
Posts: 257
Joined: Wed Jan 02, 2008 12:00 pm
---
Many thanks indeed for the pointer, Steve. It answers the question at a stroke.

There is a great deal of readily available information out there somewhere - it's just a case of knowing, or being guided, where to find it!

John.
Posts: 82
Joined: Mon Jan 07, 2008 9:39 pm
Location: Nr. Colchester
---
---
Return to Aircraft Construction & Maintenance
Who is online
Users browsing this forum: No registered users and 4 guests